Are you curious about the finance industry and what it's like to work at an exchange?
NGM's most valuable asset is our employees. Our work environment is entrepreneurial, innovative, service-oriented, dedicated and solution-focused, with short decision-making processes. We have a long-term commitment to sustainability, responsibility and we care and want each employee to feel valued and appreciated by us.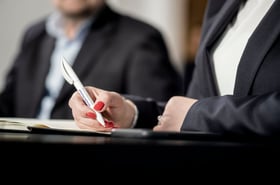 Life at NGM
At NGM, employees with diverse backgrounds and experiences work together. The culture is welcoming and we collaborate to help NGM achieve its goals.
We encourage meetings, physical collaborations and workshops in the office because the positive effects of human physical interactions are important for everyone. We are located at the newly renovated premises at Stureplan in Stockholm.
We care about the well-being of our employees and encourage a healthier everyday life. We organize an annual health initiative where we work together towards a healthier lifestyle.
As an employee at NGM, you will have access to benefits such as occupational pension, parental benefits, wellness subsidies and education.
There are many paths to NGM. In addition to full-time positions, we also offer part-time work alongside studies, summer jobs, and opportunities to conduct thesis projects. Through these opportunities, one can gain valuable experience working in a stock exchange environment. To thrive at NGM, we seek engaged, solution-oriented individuals with strong collaborative skills.
If you interested in any of these opportunities, please do not hesitate to contact us at hr@ngm.se with a spontaneous application. We look forward to hearing from you.
Want to join us?
Are you interested in working at one of the leading exchanges in the Nordic region? You will become part of our organization with competent and dedicated colleagues. We believe it is important to create opportunities for our employees to grow in their professional roles. At NGM, there are opportunities to learn new skills, take on different challenges, test new ideas and provide room for innovative thinking. We are a workplace with great ambitions and offer various career opportunities.
We work in a professional environment with complex issues where NGM, partners and our clients interact to create the best possible solutions. NGM is on a growth journey and as an employee, you are an integral part of that journey. The atmosphere is characterized by strong commitment and a very high level of service. Personality and the right attitude are important qualities at NGM.
Available positions
You are welcome to send a spontaneous application to hr@ngm.se
Processing of personal data in connection to recruitment processes and spontaneous applications
Read more about processing of personal data in connection to recruitment processes and spontaneous applications in our Privacy Policy.
© Nordic Growth Market NGM AB 2023. All rights reserved.